Available payment methods for your orders
As part of our service, we support two payment methods, these are
Payment by bank wire
The most popular, but not as fast as the rest of the payment for your orders. After completing all the formalities, you will receive the details of the transfer and the amount of the order. Data to transfer when shopping on our site is:
PANGOLD Monika Pandel
MBank account no .: 19 1140 2004 0000 3102 7619 9324
Ul. Kruszwicka 33
42-200 Czestochowa
In case of bank transfer payment, the status of your order is changed manually after we post a payment on our account. You will be notified by email when Ee change your order status to "Accepted Payment".
Payment via Transferuj.pl service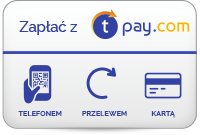 Secure, electronic, instant payments through the transfer service. The deposit is posted immediately and the order status changes automatically as soon as the payment has been made through the service. More about the transfer service you can read at: https://tpay.com/